FREE DELIVERY for local online orders.*
FREE Delivery*
* Free local delivery is available for local online orders only. For orders being sent outside of our local delivery zone, a delivery fee based on the recipient's address will be calculated during checkout.
×
About Powassan Flowers
Powassan Flowers, owned and operated by Richard and Joanne Paul, is conveniently located in the lower level of the Paul Funeral Home in Powassan, Ontario. Powassan's oldest business is now its newest!
Having experienced first-hand the comfort and satisfaction that flowers bring to the lives of people was the inspiration needed for the Pauls to open Powassan Flowers. With over 30 years of business experience operating A.M. Paul Funeral Home Limited, the Pauls are no strangers to creating customized floral arrangements and meeting the strictest of deadlines. "Over the years flowers have helped bring a little comfort during sad times to the many families served, but through Powassan Flowers, we bring smiles and cheerfulness year 'round with flowers for every occasion! We are experienced in delivering thoughtfulness – and that translates to the tone and meaning of each creation as flowers are always meant to deliver a smile". Our deep-rooted passion for flowers, along with our dedication to service, makes us the ideal choice for any occasion! Our prompt and reliable service has made Powassan Flowers the choice florist of Powassan. We are dedicated to ensuring complete customer satisfaction for new and returning customers alike. No matter the occasion, you can expect stellar service and devoted floral solutions from us.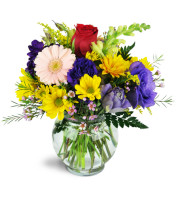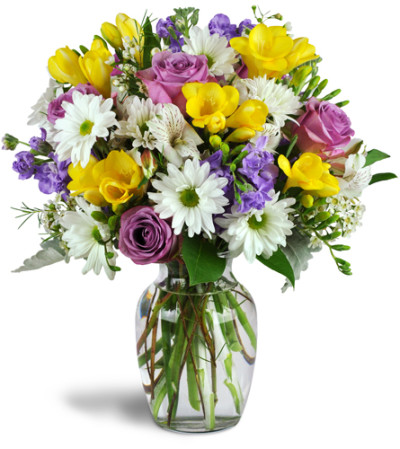 Our Staff:
Christina Hunt
Christy has literally grown up in a flower shop! Her mother Judy Hunt, is well known in the Powassan area as the highly successful force behind Everbloom Florist, Powassan's longest running flower shop which operated for 18 years on the Main Street. Christy has benefitted from her mother's practical training and lifetime of knowledge and for the last 17 years has dedicated herself to flowers on a full time basis. In addition to her maternal coach, Christy has worked in multiple shops and trained with a diverse range of designers, giving her a comprehensive perspective on floral design and styles. Previously a professional cake decorator, Christy brings a multi-faceted talent to Powassan Flowers. Her natural artistic ability extends from simple wrapped flowers to complete event decorating. An avid gardener, Christy can also help with advice or planning for your home garden! Aside from her natural aptitude for design, Christy also brings an exemplary customer service attitude. Powassan Flowers is very proud to have Christina Hunt on our team! Come in for a visit and watch Christy turn ordinary into extraordinary!
Haili Hanselman
Haili brings a natural flair for artistic design to Powassan Flowers. A freelance face painter, Haili is a popular fixture at the summer Farmer's Markets. She also paints for children's parties and other special events. Well known in the Powassan area as a musician and dancer, Haili has been performing publicly since she was a child. Her education in the arts is extremely well rounded! Haili boasts an extensive horticulture background from five years of gardening at Spring Hill Farms in Trout Creek. While the farm remains her passion, we are fortunate to have Haili's expertise and talent for the winter months. Our houseplant expert, Haili can help you choose the perfect piece for your home or answer your questions. She is amazing with garden baskets – effortlessly blending her practical knowledge of plants with her innate ability for design. Haili has a keen eye for balance, colour and style and is exceptionally capable in her role as apprentice designer. Powassan Flowers is very honoured to have Haili onboard!
Linda Ellery
The sage and creative Linda Ellery is truly a master designer. From inception, Linda has been Powassan Flowers' mentor and continues to guide us as we navigate through the floral industry. There are few designers who can boast Linda's expansive knowledge and experience. From childhood Linda has lived and breathed flowers. Her parents, Bob and Kerr have the distinction of establishing Powassan's very first flower shop over 50 years ago. Originally operating from their home and growing all their own flowers, the Kerrs built a solid reputation for quality and fairness that was imparted to their daughters, Linda and Diane, both who have continued in floral design careers. Linda has designed in both Canada and Europe, working in shops wherever her military husband was posted. Having experienced varied cultures and traditions allows Linda a unique and unparalleled viewpoint. A freelance designer, Linda has achieved an incomparable reputation for her work and is always in demand. Powassan Flowers is very fortunate to have Linda assist us on an at-need basis.
Jessica Beck
Jessy Beck is a delight! Her bubbly personality and consummate work ethic are perfectly matched by her creative skill. A graduate of the Canadian Institute of Floral Design, Jess brings a cutting edge to Powassan Flowers. Equally comfortable designing homey, woodsy pieces to sparkling, modern, more contemporary arrangements, Jess is capable of rising to any challenge. In addition to her formal training, Jess has worked in flower shops in both Canada and United States, learning every aspect of the trade. She continues to be in high demand as a freelance designer known for her flexibility and skill. Jessy was raised in Loring where her family owns and operates a tourist resort. Her customer service upbringing lends itself perfectly to her interactions with clients at Powassan Flowers. We guarantee you will love Jess as much as we do! Jess is a wonderful component of our team and we are very grateful to have her!
Emily Paul
Emily's day job is studying at Nipissing University where she is a full time history major. Having been raised in a very service-oriented family, Emily understands the importance of customer relations. Her helpful attitude with clients and desire to please perfectly complement her natural creative ability. A lifelong artist, Emily now brings her talent to floral design where she is proving very capable. In addition to designing on a part time basis, Emily is also our social media guru.